OPTIMISED

3D SCAN
&REVERSE
ENGINEERING
We can scan your existing object and create a 3D model of it.

You can use your 3D model for PART DUPLICATION using 3D printing or REVERSE ENGINEERING. Modify your part by changing size, adding, removing or changing features. Analyse your part for flaws or for fit with mating parts.
Book a site visit to scan your part and discuss your requirements or you can ship it to us.
CONTACT US
Contact us for a personal quote.
3D SCANNING FOR
PART
DUPLICATION
can help you with:
Hard to find replacement parts
Patterns for use in a molding process
3D SCANNING FOR
REVERSE
ENGINEERING
Reverse engineering takes the process further – from the scan we recreate a 3D model of your object from which you can transform, remake and optimise the design.
3D printing
Reproduce an "idealised" model of the part
Refine surfaces and their relationships
Correct any flaws, whether due to wear or design
Completely re-engineer to optimize for 3D printing - saving material and cost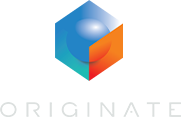 Originate d.o.o.
Kraška ulica 2
6210 Sežana
Slovenia
+386 (0) 40 536 711
info@originate.direct
@2020, ORIGINATE d.o.o. All rights reserved
Made by
normstudio.si
Cookies
On originate we use cookies only for ensuring normal operating of the page.
Confirm