FAQ
WHAT IS THE MAXIMUM PRINTABLE VOLUME?
The 3D printing volume is 380 x 284 x 380 mm. If the object to be printed is larger, it can be divided into parts to be reassembled after printing.
WHAT FILE TYPES DO YOU ACCEPT FOR 3D PRINTING?
File format .STL
CAN YOU OPTIMISE MY MODEL TO FUNCTION BETTER?
We can help you optimise your 3D design to better achieve your business goals by:


Creating products that take advantage of increased design freedom of 3D printing to better meet end-user requirements.

Creating 3D printed designs that meet requirements for functionality and manufacturability.

With the reverse engineering process, it is possible to analyze and reconstruct a product that has no original designs. It can be used to create an object with a design very similar to that of the original product; to improve an existing product by reducing weight or bulk; or improve the functional and aesthetic aspects of a design in line with your requirements.
WHAT PAYMENT OPTIONS ARE AVAILABLE?
We accept PayPal and bank transfer.
HOW LONG DOES IT TAKE TO PRINT THE 3D MODEL?
Depending on your size and quantity requirements, the print and delivery times will be indicated in your quote. We collaborate only with the most reliable couriers.
DO YOU SHIP INTERNATIONALLY?
Yes, we ship internationally - the cost and estimated delivery date will be indicated in your quote.


CAN YOU PRINT A FUNCTIONING PROTOTYPE WITH MOVING PARTS?
Using an inkjet array to repeatedly apply fusing agents across a bed of nylon powder, followed by fusion into a solid layer via heating elements, HP MJF is able to offer complex and detailed features, to produce fully functional prototypes. This technology allows for movable parts to be made "inside" of other parts - fully assembled, multi-component systems with moving parts, such as gears, that actually work.

The quick turnaround time and strength of the parts makes them ideally suited for use as prototype model parts, to test for proof of design or for mating with other parts.

HOW DO YOU SCAN PRE-EXISTING MODELS?
Using the 3D scanner most appropriate for your project, the object is measured and a digital file is produced using software. This can be done on your premises or you can mail the part to us.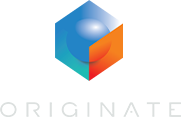 Originate d.o.o.
Kraška ulica 2
6210 Sežana
Slovenia
+386 (0) 40 536 711
info@originate.direct
@2020, ORIGINATE d.o.o. All rights reserved
Made by
normstudio.si
Cookies
On originate we use cookies only for ensuring normal operating of the page.
Confirm